Working professionals in today's fast-paced environment need mobility and speed in whatever they do, including documents scanning. That is why Fujitsu introduced a lightweight, mini and portable A4 duplex Automatic Document Feeder (ADF) scanner with colours – ScanSnap S300.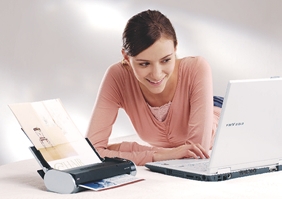 The ScanSnap S300, which weighs only 1.4kg in a compact dimension of 284mm x 95mm x 77mm, can easily scan up to 8 double-sided color pages (that's 16 images) in one minute. For extra mobility, the ScanSnap S300 can be powered through your laptop or notebook's USB port when AC power source is not within reach.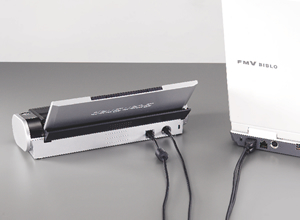 Unlike normal images scanner which save files as jpeg, the S300 quality scanner features a One Touch button that is capable of scanning both sides of the document at a single pass and saving it in keyword searchable PDF files, thus saving valuable time for future referencing.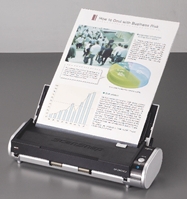 The Fujitsu ScanSnap S300 comes with a host of automatic image correction features in ensuring great scanning results. Simply load a stack of documents into its feeder and press the one touch "SCAN" button. The S300 will automatically recognizes the size of each document, detects and corrects for skew, and shows images in their proper orientation with blank pages removed. And using the bundled software CardMinder v3.2, even business cards can be scanned and stored into Outlook or CSV (Excel) format, conveniently. A very smart scanner, indeed.