Data backup is important especially when dealing with highly important and company confidential documents. Besides, data encryption is another step to ensure those backup data will not be seen or copied by someone else intentionally. Fujitsu is seeing the needs of combining both features to come out with the new version of hard disk drive for consumer market. Named as MHZ2 CJ series, it is the world's first 2.5-inch Hard Disk Drive featured with Hardware Encryption for enhanced data security protection.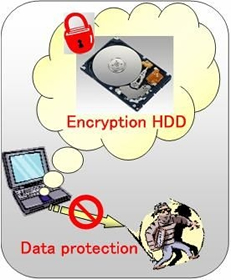 The new series has a huge capacity of 320GB which is more than sufficient for personal usage. It has a built in 256-bit AES (Advanced Encryption Standard) hardware encryption engine that can offload the security encryption task from CPU cycles. As compared to software encryption method, hardware based encryption is definitely faster and less susceptible to hacking activities. Besides, it utilizes famous SATA (Serial ATA) interface that is quite common and compatible with today's PC system. Some of the specifications include rotational speed of 7200 RPM, typical read/write speed of 10.5ms and 12.5ms respectively with a maximum transfer rate of 300 MB/s.
The product will be available with different memory capacity ranging from 80GB, 120 GB, 160 GB, 250 GB and up to 320 GB by end of May this year.