Today's world is all above digital. Your mail, photos, documents, drawings, songs, movies and more are all in digital format. By having a portable storage device, you can bring them along without any trouble. Freecom, one of the leading IT companies active in storage solutions, has introduced the world's smallest 3.5" external hard drive – Hard Drive XS. The new Hard Drive XS offers storage capacity of up to 1TB. This is ideal for those who want to back up their digital files or carry it on the move.

"Whether at home or in the office, space is one of the things we value most. The compact and stylish design of the Hard Drive XS takes up less room in your bag and looks sleek on your desk, but also provides plenty of extra storage for your data," said Axel Lucassen, co-founder and executive senior VP of product line management and marketing.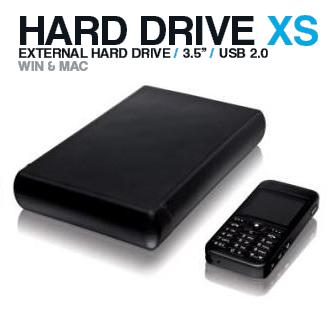 Key features of Hard Drive XS:
The XS is the world's smallest 3.5" external hard drive with overall dimension of 18.2 x 11.4 x 3.1 cm and weight at 860 grams. It takes up little space on your desk or bag and is suitable for traveling.
Its rubber casing design reduces vibration and ensures optimal grip as well as portray a glossy and stylish look.
The unit comes with a fanless system; meaning that it's almost silent when operating.
The Turbo USB 2.0 connection offers transfer speeds of up to 30 percent faster than other devices for downloading or uploading data.
It is designed to add extra storage capacity to your computer.
Support with PC and Mac
The Hard Drive XS 1TB is available at Freecom.com at 119 EUR.