Windows Live OneCare is a computer security service which integrates anti-virus program, firewall, backup and restore utility to supplement integrated Windows Defender for malware and spyware protection. Windows Live OneCare is developed by Microsoft for Windows XP and Vista (including both x86 and x64) operating systems.

Windows Live OneCare 2.0 features multi-PC or multi-computer and home networking management, printer sharing support, start-time optimizer, proactive fixes and recommendations, monthly reports, centralized backup, and online photo backup. The main advantage of Windows Live OneCase is ease-of-use, with an icon on notification area (system tray) which provides one-glance status of the system's health using three alert colors: green (good), yellow (fair), and red (at risk).
Windows Live OneCare costs around $49.95 to buy or renew its annual subscription, which can be used on 3 computers. User can always download Windows Live OneCare without CD media for 90 days free trial period, and must be activated with a valid license after that. Now, you can get Microsoft Windows Live OneCare 2.0 for free after $30 rebate if your purchase the software from Amazon.com.
To get Windows Live OneCare 2.0 free one year subscription with free CD media and free delivery to your home, puchase Windows Live OneCare 2.0 from Amazon.com
which costs $30.00. Note that you must buy from Amazon.
To ensure that you do so, click on Get Windows Live OneCare 2.0 for Free! link before the green rebate circle button. Add the product to shopping cart and complete the checkout to buy the product for $30. Remember to choose "Free Super Saver Shipping" to avoid shipping charge.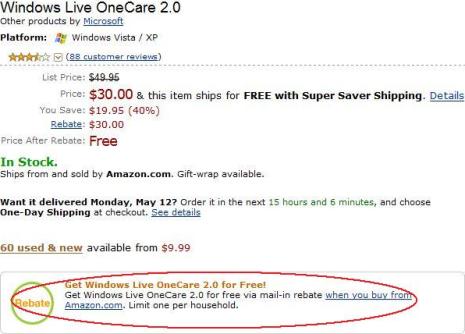 Then print out the Mail-In Rebate. Complete the rebate form, and postmarked the completed rebate form together with qualifying proofs of purchase (online purchase confirmation email receipt or sales receipt) within 45 days of the date of acquiring Windows Live OneCare. Purchase must be done from May 4, 2008 through June 21, 2008. You will receive $30 rebate to offset your purchase cost, essentially make the Windows Live OneCare CD-ROM media with one year annual subscription free, which will activate Windows Live OneCare for unlimited updates and technical support for one year.
The offer only valid in United States though.