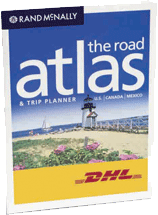 Want a free atlas map? Or it's time to update the road atlas? DHL is giving away a free McNally Road Atlas, a popular atlas map reference that is perfect for home or office, if you willing to give out your details for them to spam you. Oh well, actually is to complete a survey for the purpose of improving the delivery service. Of course, you still have to give them your address and contact.

Fill up the short survey of DHL to receive the free Rand McNally Road Atlas at http://www.dhl-usa.com/dom/atlas.asp?tcode=LGOA.
The free Rand McNally Road Atlas contains 80 pages of maps, a comprehensive index, numbers to know, and a useful trip planner. It probably not a detailed map for traveling or driving, and is a special edition printed just for DHL giveaway. The atlas will be sent 2-3 weeks after survey completion.