Desktop Maestro from PC Tools, the developer for the popular Spyware Doctor, is an all-in-one application that integrates registry cleaning, system monitoring and privacy cleaning. Desktop Maestro combines the features from Registry Mechanic and Privacy Guardian to ensure that users have all the tools to clean and compact your registry, monitor your system to optimize your PC for optimal better performance and stability, and protect your privacy by cleaning traces of online and computer activities.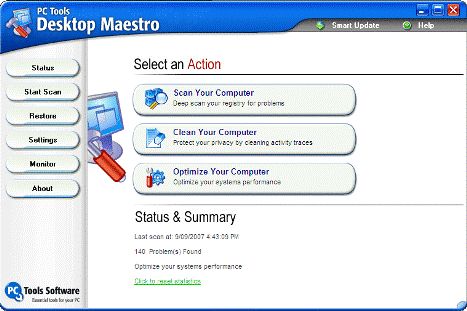 Features of Desktop Maestro 2.0
Repairs invalid registry entries that are a common cause of Windows® crashes and error messages
Optimizes your system by compacting the wasted space and gaps in the registry
Improves system performance and stability by removing orphaned references
Scans your hard drive for invalid and incorrect program shortcuts
Safely makes backups of any registry changes made by Desktop Maestro
Thoroughly cleans all traces of online Internet activities on your computer including cache, cookies, index.dat and history
Permanently deletes recycle bin contents, temporary files, document history, plus many more PC tracks
Bleaches free space and deleted files using Department of Defense standard (DoD 5220.22-M) making them unrecoverable using regular methods
Restores valuable hard drive space and improves system performance
Plug-ins to clean the history of 100+ third-party programs, including hat, image viewing, P2P applications and more
Supports Internet Explorer, Netscape, Mozilla Firefox and Opera web browsers
Works with Windows® Vista, XP, Me, 98, 95, NT and 2000
Unlimited free upgrades and e-mail technical support for one year
VNU Computerative and Komputer Swiat Ekspert, together with PC Tools respectively, is giving away free full license for Desktop Maestro 2.0. The free license entitles users to use Desktop Maestro 2.0 (current version v2.0.0.332) forever and indefinitely, with free technical support (and upgrade?) for 12 months (1 year).
To get the free license code, register your name and email at one of the following URLs:
http://www.pctools.com/desktop-maestro/free/promo/CADM0308
http://www.pctools.com/desktop-maestro/free/promo/KOMSWIAT0308/
After clicking the Request Free License button, an email with license code for registration will be sent to your mailbox. Desktop Maestro can be registered by clicking "Register" and entering the name and license key below into the evaluation version. Once valid license information is entered the program will then be activated as full registered version.
Download (apparently it needs the special setup installer) Desktop Maestro 2 Deskto Mastro 2 (desktopmaestro-install.exe) or the offer package from www.vnudownloads.co.uk (Current Version 2.0.0.332). The offer package Computeracctive-260.zip consists of setup installer for Ashampoo Magical Defrag, O&O DiskImage, Desktop Maestro and Fix-It Express.