Norton AntiVirus (NAV) 2014 has been one of top rated antivirus (AV) security suites that replacing Norton AntiVirus 2013 as the latest version of popular security product from Symantec. Norton AntiVirus 2014 contains functions for anti-virus, anti-spyware, anti-rootkit, anti-phishing, identity safe, live 24×7 threat monitoring, network mapping and monitoring, and SONAR 3 behavior protection for maximum protection. Norton AntiVirus 2014 dedicates a wide array of scanning modules to preventing web-based attacks and safeguarding computer vulnerabilities. In addition, Norton also enhances online navigation security, minimally affects system performance, and runs tasks in the background.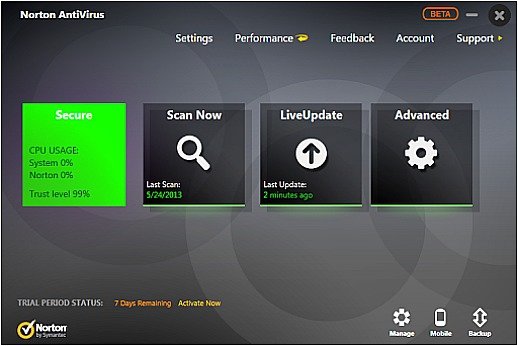 One-year subscription for 1 home PCs of Norton AntiVirus 2014 normally cost $49.99 to purchase. As part of promotional offer from Symantec, now everybody can get a free 90 days subscription of Norton AntiVirus 2014 with full commercial version of setup installer download, which installs NAV 2014 with no restriction nor locked features. However, with some simple tricks, users can now grab 6 months of Norton AntiVirus 2014 for free.
To get the free license for Norton AntiVirus 2014, just download the Norton AntiVirus 2012 free 6 months trail version online installer.
Download Norton AntiVirus 2012 online installer: http://liveupdate.symantecliveupdate.com/upgrade/NSS/SymCCIS/Production/NPI/facebook/Setup.exe
Once finished install, registration screen will appear. Enter the email address and create Norton Account.
Note : The offer is available for new customers only
After completed registration, sign In to Norton account, and then click on "Products Details". At there, you will find 180 days product serial number key of Norton AntiVirus. Copy and save the product serial number key in Notepad.
Download the Norton AntiVirus 2014: http://buy-download.norton.com/downloads/2014/21.1/NISNAV/US/NAV-TW-21.1.0-EN-US.exe
Note: Uninstall the Norton AntiVirus 2012 before install the latest version Norton Antivirus 2014
Once finished install the Norton Antivirus 2014, open the main window and click on "Renew" button.
Paste the product serial number key you saved in Notepad into the column renew license key.
Now you can enjoy free full version Norton Antivirus 2014 with 180 days of subscription.
Norton AntiVirus 2014 supports Microsoft Windows XP, Windows Vista, Windows 7, and Windows 8.