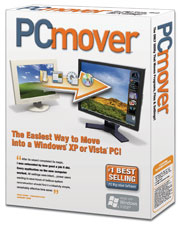 As part of celebration of Laplink 25 years anniversary milestone, Laplink, the global leader in file transfer, synchronization, remote access, and migration is giving away a free copy of PCmover to everyone who visit Laplink website on May 15, 2008 (the free PCmover license serial number is still been giving away one day only, so be quick). No purchase is required necessary, no strings attached, and no gimmicks. Each and every readers will get a free genuine license copy of serial number for PC Mover.

PCmover is a migration (not exactly clone) utility that automatically moves selected or all files, folders, settings, programs and applications from an old PC to a new computer in order to make new system have the personality and functionality as the old PC, without affecting the new PC own pre-installed software. PCmover also supports selection of users for computer with multiple user accounts, with security information on file ownership and access control preserved. PCmover can migrate the PC across a wired or wireless network, Laplink USB cable, Laplink parallel cable, Windows Easy Transfer Cable, or any type of removable media readable by both PCs. PCmover supports all Windows system system, i.e. Windows 95, 98, Me, 2000, NT 4.0, Server 2003, XP, Vista, and also Intel-bas Mac OS X. No 64-bit support though.
To get your free license serial number for Laplink PCmover, visit the promotion offer page below:
http://www.laplink.com/25thanniversary/pcmover.html
Laplink is trying to cross-selling some other products, but don't click any of them, and click on any "Proceed" button, and you're on your way to get the free copy of PC Mover. Downloader is required to create an account with Laplink, or login if you already have one. System will set a Product Code, which useless to downloader. Simply click on Finish button to download the setup installer for PCmover product (pcmover_en.exe) and retrieve the serial number. User serial number key to activate the installed PCmover.
Thanks to Carey Holzman who sends in the tip.