Valve Corporation, the developer for popular science fiction first-person shooter computer game, is teaming up with NVIDIA to give away 4 popular computer games to NVIDIA GeForce GPU video adapter via Steam delivery platform. The games giveaways is part of the after sales promotion offer to further support and popularize PC gaming configuration based on NVIDIA GeForce graphics card, fighting with ATi free games offer.

The games available for free download and free unlimited play on Steam as listed on Portal: First Slice is free for all NVIDIA Gamers site includes:
Portal: First Slice – First Slice is a shortened demo version of the Portal game, with only 11 of the 19 Test chambers.
Half-Life 2: Deathmatch – A multi-player game using all the weapons from Half-Life 2 with support for user created maps.
Half-Life 2: Lost Coast – An expansion pack to Half-Life 2 which showcases High Dynamic Range Lighting (a lighting technology that emulates the way human eyes see light).
Peggle Extreme – 10 level version of Peggle Deluxe with Half-Life 2, Team Fortress 2 and Portal themed puzzle. (Peggle World of Warcraft Edition is also available)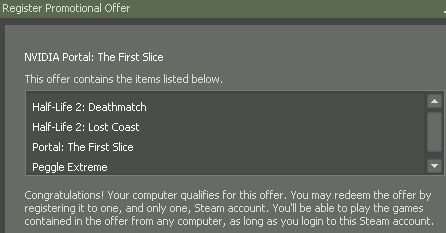 The only requirement to receive the free games is to download and install Steam games content delivery program (other than the PC must powered with a NVIDIA display adapter chip). Steam setup installer can be downloaded via steampowered.com. After installing Steam application, and then registering and logging in to the Steam account, visit steam://hardwarepromo/609 link to register for promotional offer (You won't find the zero cent price on the store), and install the games.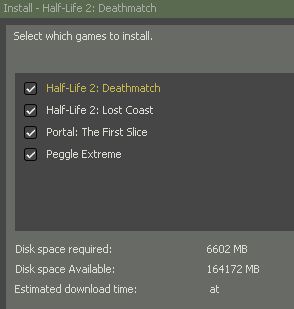 With the free HL2 source SDK base, users will be able to install Half-Life 2 mods which make the game much more interesting. All these free games have been included in value packs from Valve, such as The Orange Box. Beside, detection of the presence of NVIDIA hardware is automatically done by Steam software, and it will make Portal: First Slice available immediately, free of charge if supported device is detected. All NVIDIA driver also has the link to redeem the Steam offer.