Privacy Guardian, as its name implied, is a software to help user protect privacy by thoroughly cleaning all traces of history and deleted information from PC. The information permanently wiped off and erased to unrecoverable state including traces of online Internet such as temporary files, cookies, index.data and computer activities. Now user can get Privacy Guardian for free, latest version of it, unlike Desktop Maestro, File Recover and Registry Mechanic which restricted to older versions.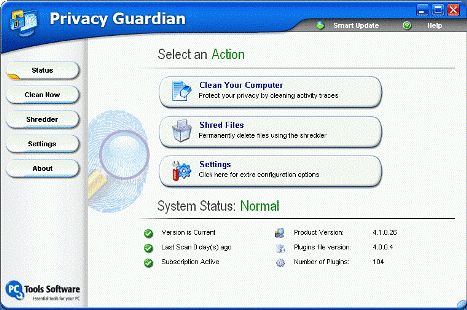 Features of PC Tools Privacy Guardian
Completely cleans all traces of online Internet activities on your computer including cache, cookies, index.dat and history.
Permanently deletes recycle bin contents, temporary files, document history, plus many more PC tracks.
Bleaches free space and deleted files using Department of Defense standard (DoD 5220.22-M) making them unrecoverable using regular methods.
Restores valuable hard drive space and improves system performance.
Plug-ins to clean the history of 100+ third-party programs, including chat, image viewing, P2P applications and more.
Supports Internet Explorer, Netscape, Mozilla Firefox and Opera web browsers
PC Tools is giving away fully-featured and latest version release copy of Privacy Guardian to the first 10,000 people (still valid) who sign-up to the "exclusive offers" newsletter, who will receive a small number of carefully selected, heavily discounted offers from PC Tools partners for huge savings, if you interested. A full license for 1 computer for Privacy Guardian costs $29.95 normally.
Sign up for the exclusive offers newsletter at PC Tools.
A confirmation email will be sent to your mailbox, where you're require to click on the confirmation link to verify the email. Then another email with PC Tools Privacy Guardian license code information, which can be used to activate and register the Privacy Guardian to full version product with no limitations.
Download the latest version of PCTools Privacy Guardian (current version 4.1.0.37): pginstall.exe
N.B. If you do not prefer to receive the newsletter, it's always possible to unsubscribe the newsletter from http://www.pctools.com/newsletter/subscription/.