ESET Smart Security is a personal firewall, antispam, antispyware, and antivirus security protection software developed by the developer of the popular and one of most powerful anti-virus solution, ESET NOD32 Antivirus. Compared to ESET NOD32 Antivirus, ESET Smart Security provides comprehensive defense against Internet threats such as viruses, trojans, worms, rootkits, spyware, and other malware.

ESET Smart Security is built on award-winning ESET NOD32 Antivirus (see comparison) and its powerful ThreatSense engine, an advanced heuristics technology which proactively recognizing threats, and has precise detection with zero false positives. Another features of ESET products is lightweight design which requires less memory and CPU power, plus fast scanning speed. As with the trend of anti-virus industry such as AVG Anti-Virus, Avira AntiVir and avast! AntiVirus, ESET Smart Security is now also an all-in-one utility provides antivirus, antispyware, antispam and customized firewall features to protect the computer.
ESET Smart Security costs $59.99 for one license for one home user computer, while ESET NOD32 Antivirus costs $39.99. But now NOD32 lovers can get a free 90-day (3-month) license (or actual is the legitimate and valid username and password) to download and install ESET Smart Security on the computer and use it without restriction, thanks to an ESET China promotion.
To the get the free user name and password for ESET Smart Security, you must be FAST, as the offer has actually already expired on March 31, 2008, but the offer registration is still opened and worked. Here's the trick to receive your own valid username and password that enables you to download registered software from ESET server and update the software for free for 90-days.
Go to ESET NOD32 China forum at http://www.nod32club.com/forum/register.php, and register an user account. Yes, it's in Simplified Chinese. Incomprehensible? Just follow illustrative guide below.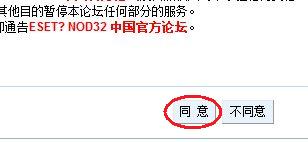 At the forum registration, click on the Agree (left button at the bottom) to go to sign up page.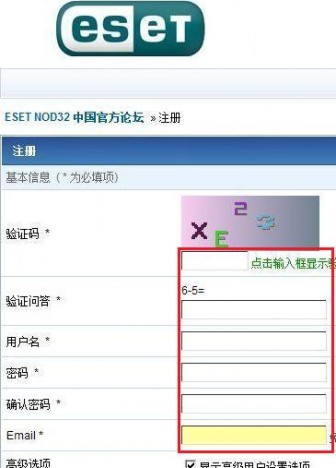 Fill in the first 6 fields on the sign up page. The first 6 fields are, sequentially from top, captcha value based on image, captcha value based on calculation or instruction (if you get instruction in Chinese, simply refresh the page for another captcha if you don't understand it), user name for the forum, password, confirm password, and email. Then, scroll down to the bottom of the page and click on "Submit", the only button available.
Next, time to apply for the ESET NOD32 Smart Security serial number which valid for 3 months. Go to promotion serial number registration page at http://www.nod32club.com/ess/index.php?c=home&a=applay, and fill in the form.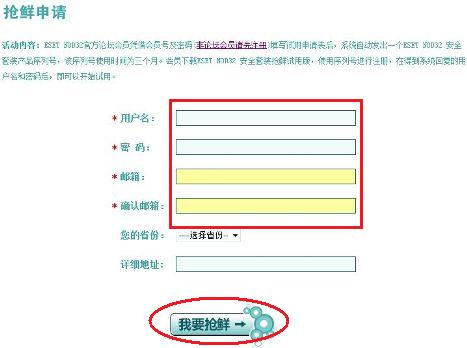 Only the first 4 fields have to be entered, which sequentially from top, are user ID registered on the forum, password for the forum, email address, and confirm the email. Then, click on the "Submit" button.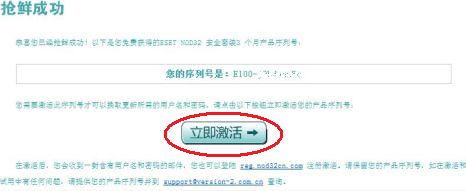 The ESET serial number is displayed on screen. Click "Activate" button to receive username and password that is used to update the ESET NOD32 and ESET Smart Security signatures. Record down the serial number as it's not emailed to you, just in case your activation doesn't successful. If you want to activate manually, register the serial http://reg.nod32cn.com/ (in Chinese) or http://www.nod32.com.sg/register.php (in English) to receive login user ID and password.
Once "Activate" button is clicked, the webpage will redirect to a thank you page, and it will automatically register your serial and email the 3-month validity user name ID and password to your mailbox within 1 hour (normally between 15 to 20 minutes). The email is in Chinese, but it's not too hard to identify the user name, password and valid till date contained in the email.
With the ESET username and password, download the official setup installers from ESET server. The username and password is valid and work on both ESET Smart Security and ESET NOD32 Antivirus of all versions. ESET Smart Security 3 and ESET NOD32 3.0 supports Windows XP, 2000 and Vista, while ESET NOD32 2.7 supports Windows NT, 2000, XP and Vista.
ESET Smart Security 3.0 for (32-bit): ess_nt32_enu.msi\
ESET Smart Security 3.0 for (64-bit): ess_nt64_enu.msi
ESET NOD32 3.0 Antivirus (32-bit): eav_nt32_enu.msi
ESET NOD32 3.0 Antivirus (64-bit): eav_nt64_enu.msi
ESET NOD32 2.7 (32-bit/64-bit): ndntenst.exe
Enter username and password received in email when prompted. For setup installer in other languages, go to ESET registered software download page.
It's also possible to install trial version of ESET Smart Security or ESET NOD32 Antivirus (only applicable to version 3 as older version differentiate between evaluation and registered software), install the trial version, and then upgrade to full registered version by entering the free username and password received (remember to remove the trial username and password, i.e. eavtrialxx or esstrialxx) . But downloaders do not have to enter any user name and password to download. The direct download links to the English trial versions are listed below.
ESET Smart Security 3.0 for (32-bit): ess_nt32_enu.msi\
ESET Smart Security 3.0 for (64-bit): ess_nt64_enu.msi
ESET NOD32 3.0 Antivirus (32-bit): eav_nt32_enu.msi
ESET NOD32 3.0 Antivirus (64-bit): eav_nt64_enu.msi
Beside, there is also free 6-month ESET NOD32 AntiVirus (EAV) given out by PPLive. Another offer of free 3-month ESET Smart Security licensed username and password or 101 day trial ESET Smart Security are also available.
The offer has expired. Check out more promotion on free anti-virus and Internet security suite.