If you're a smoker 21 years of age or older (even if you're not, you can always pretend that you are smoker lover), you can get a free customized beach towel with 4 designs for selection, by signing up or already joined Parliament mailing list and update your smoking preferences.

To get your free beach tower, visit https://www.smokerservice.com/service/customBeachTowel.do or http://www.custombeachtower.com/, and then enter the following Promotional Code to customize the free beach towel:
PROMO CODE: PMT2379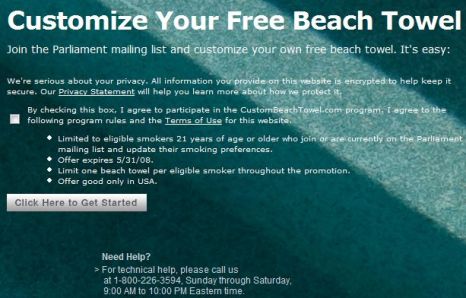 Freebie grabbers need to supply last four digits of Social Security Number and other personal information for verification. The signing up means joining Parliament mailing list and eligible for mailings from Parliament, including coupons & special offers. The promotion of free beach towel offer and the mailing list are operated by Philip Morris USA Inc., a major tobacco company in US.
Each smoker can cliam one free tower, which means every person in a household is eligible for their own free towel. However, the offer only good in United States, and delivery may take 10 – 12 weeks. Apparently, it's not only free beach towel that delivered to those who have receive it, the package also comes with a portable ashtray to use while on the beach.