Captain Tray Pro is a simple and effective system tray and taskbar management tool for Windows 98, Me, 2000, XP and 2003 Server. Captain Tray Pro is useful when user runs and works with many applications at the same time, where the windows bars packed and clogged up the taskbar. Some programs can be minimized to the notification area (system tray), but most doesn't. Captain Tray Pro allows user to easily minimize active windows to the system tray, taskbar or hideboard. CTP is a tool to manage the contents of the desktop (windows) similar to file manager lets user manages the contents of the disk drives.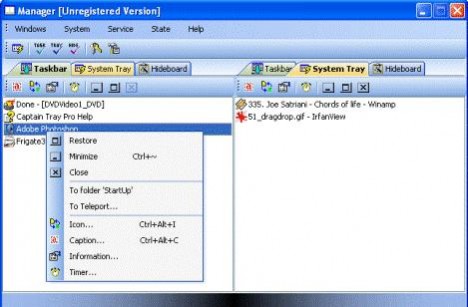 Features of Captain Tray Pro
Easy and intuitive windows management
Moving windows to system tray
Hiding windows
Password protection
Changing icon and window captions
Window 'alarm clock'
System Tray icon animation feature (like in ICQ)
Windows groups wor
Automatic placing of application to system tray
Automatic hiding of windows
Working with all window types GUI, Console, Dos
3 working modes: system tray, hidden, fly window
Hot keys feature
Upgrading to any local language
Giveawayoftheday.com is giving away the genuine free license key (contains legitimate serial code) for Captain Tray Pro, which can then be used without any restriction or time limit. Else you have to fork out $34.95 to purchase the software to receive the serial code number.
Download the free Captain Tray Pro.
The free version of Captain Tray Pro has to be installed by today (April 11, 2008). However, if you want to install in future, want to reinstall Captain Tray Pro after formating computer, having problem or error of activation module failed to connect to giveawayoftheday.com, which caused software activation is not possible at the module, or simply want to backup the license key, just save a copy of ctp.key file contains in the archive. Whenever you need to install, download the original official Captain Tray Pro setup installer without the GAOTD activation module from captaintray.com. Register Captain Tray Pro with the ctp.key license key by copying the file to CTP installation folder, normally at C:\Program Files\Almeza\Captain Tray Pro directory.