Avira is giving away free 6-month license for Avira AntiVir Premium without condition attached in special promotion. The free offer may expire anytime soon, especially after 6 months free usage, the free license will expire and users will have to purchase and buy license to continue using using Avira AntiVir Premium 8 and receive virus signature updates.

Luckily, there is another method or change to get a 1 full year free license for Avira AntiVir Premium to protects computer against dangerous threat of viruses, worms, Trojans, dialers, spywares, adwares, and rootkit. But this free 1 year license is with condition attached. The requirement is that interested users will have to sign up to try or buy one offer from an advertisers on TrialPay. In other words, TrialPay is indirectly paying for your license cost for Avira AntiVir Premium.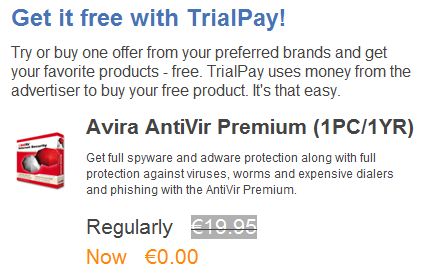 Avira AntiVir Premium normally costs €19.95 for 1 license on 1 PC, and is now available for free on TrialPay. However, it may costs you more to purchase the offer.
Anyway, there is still plenty of other anti-virus license giveaway for AVG Anti Virus, ESET (NOD32) Smart Security 3-month user name and password, avast! free Home edition and Rising AntiVirus 6-month free edition.