Flickr, from Yahoo, is a popular and simple-to-use photo-sharing and -hosting service site which provides unlimited virtual gallery for people share and explore each other's photos. With Flickr, photos and videos can be accessed without the need to register an account but an account must be made in order to upload content onto the website. In addition, Flickr also supports HD video and has an official application for iOS, Android, and Windows Phone 7 operating systems.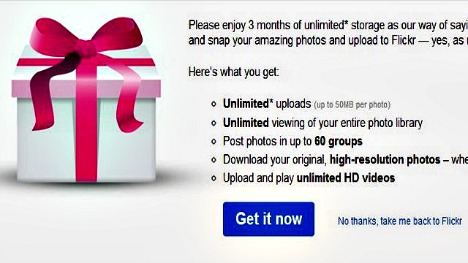 Key features of Flickr:
Photo uploading
Private message sending and public message posting
Video uploading
Instant messaging
Real-time updates from other users
Search option
Flickr offers free and pro service version. For the pro service version, it normally costs $24.95 to subscribe. Basic users can share and host hundreds of their own pictures on Flickr, while the pro service version can enjoy unlimited sharing and storage.
In order to celebrate the holiday season, the Flickr is now giving away free three months of Flickr's Pro account to the interested users until January 4th, 2013. With this giveaway promotion, users will enjoy unlimited uploads and viewing of photos and videos and ability to post photos in up to 60 groups.
To grab the free Flickr pro account, follow these steps:
Sign in to the account, pick a Flickr screen name and choose the holiday gift.
Ignore the Flickr's billing process as part of the Flickr Holiday Gift.

Note: Users don't need to enter credit card information to enroll.

Once done, users will receive an email containing the gift code.

Note: If you already Flickr Pro account subscriber, the expiration date will extend to another extra three months.

Go to the "Activate your Gift Code" page and enter the gift code to activate the account.

Once Flickr pro account activated, users will have unlimited uploads and other benefits for free three months.
When the free three months expire, users account will automatically revert to the standard limits of a free account.
Flickr Pro lets users store images of up to 50 MB per photo, unlimited viewing of entire photo library, download high-resolution images, and upload and play unlimited HD videos.