After RCs (Release Candidates), Mozilla has finally announced and released the final RTM/RTW version of next generation Firefox 61 web browser powered by a new Quantum engine. Firefox 61 or Firefox Quantum built with refined user interface, codenamed "Photon".
Firefox has redesigned user interface with furthered Quantum CSS to offer faster page rendering, faster switching between tabs, tab warming, and retained display list feature. Besides that, Mozilla users also can add new search engines from the Page Actions menu.
Firefox 61 also improve on security features with TLS 1.3 that helps securely send information over the internet, Firefox dark theme support, managing Web Extensions, and other advancements.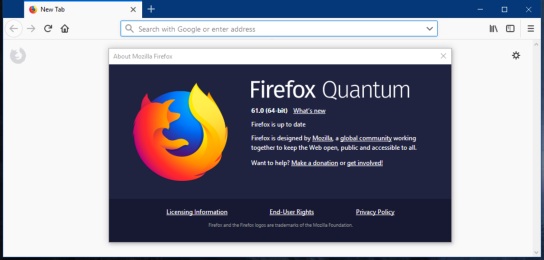 Full change log of Firefox 61 for Desktop:
Faster page rendering with Quantum CSS improvements and the new retained display list feature
Faster switching between tabs on Windows and Linux
WebExtensions now run in their own process on MacOS
Convenient access to more search engines: You can now add search engines to the address bar "Search with" tool from the page action menu when on a webpage that provides an OpenSearch plugin
Share links from Firefox for MacOS more easily: You can now share the URL of an active tab from the page actions menu in the address bar
On-by-default support for the latest draft of the TLS 1.3 specification
Access to FTP subresources inside http(s) pages has been blocked
A more consistent user experience: Improvements for dark theme support across the entire Firefox user interface
More customization for tab management: added support to allow WebExtensions to hide tabs
Improved bookmark syncing
The settings for customizing your homepage and new tab page in Firefox have been added to a new Preferences section that can be accessed from Firefox at about:preferences#home. The settings can also be accessed via the gear icon on the New Tab page.
Full change log of Firefox 61 for Android:
Quantum CSS improvements which improve page rendering times
Faster scrolling due to treating touch event listeners as passive by default
Improved security: On-by-default support for the latest draft of the TLS 1.3 specification
Fixed a recurring crash on Samsung Galaxy S8 devices running Android Oreo (8.0)
How to Download Firefox 61
The final version of Firefox 61 (FF61) is already available for free download as scheduled release date on June 26, 2018. The setup installers of Firefox 61 has already been posted on Mozilla FTP server, and is available for Windows, Mac OS X and Linux for various supported languages.
After Firefox 61 is officially released, Firefox 62 will be moved to Beta channel, Firefox 63 moved to Central.
Download Firefox 61 prior to official launch on Firefox web page from the following links:
Windows (32-bit): Firefox Setup 61.0.exe
Windows (64-bit): Firefox Setup 61.0.exe
Linux: firefox-61.0.tar.bz2
Mac OS X: Firefox 61.0.dmg
You can share or follow us on Twitter, add us to your circle on Google+ or like our Facebook page to keep yourself updated on all the latest info from Microsoft, Google, Apple and the Web.