Asia's largest low-fare airline, AirAsia with tagline "Everyone Can Fly", is providing low cost flight to the public. Nevertheless, how can you grab the lowest air fare from AirAsia especially during its promotion period? I'm sure you will just search the air fare date by date to get the lowest offer. Is it troublesome? Definitely. You will hate doing this every time you search for the lowest air fare from Air Asia. Now, AirAsiaPlus can assist you on searching the lowest air fare information in 5 seconds and the best thing is this website is totally free of charge.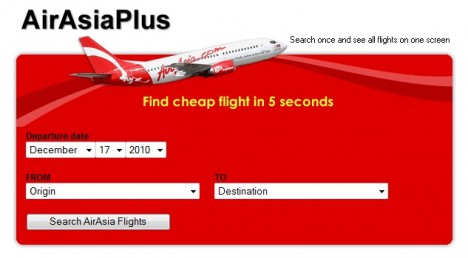 AirAsiaPlus is a website offering service to search for lowest flight fares from AirAsia Airline. Just select your departure date, the departure location and destination. Then, AirAsiaPlus will summarize the cheapest air fare from your selected date to the next 15 days in a single page. It is good for those who like to search for cheap air fare during a preferred period only like school holidays or the festive session. However, the weakness of this website is the search only allows for one way travel. If you want to find the return air fare, a second search is needed.
AirAsiaPlus is just a free website to provide you with the information on the lowest flight fare offered by AirAsia. After the information is obtained, you need to go to the AirAsia webpage to book your flight.
Besides AirAsia Airline, this webpage also provides the link to TigerAirwayPlus, CebuPacificAirPlus and JetstarSearch; these offer the same service to search for the lowest air fare from Tiger Airways, Cebu Pacific Air and JetStar respectively.