Keeping track and tracing of family lineages and history is not an easy task which many assumes can be done just by affixing a collection of names to a pedigree chart. Instead, genealogy research is a complicated, complex and length process especially when involving identifying ancestral or descendant families, and the biological, genetic, or familial kinship relationship between them.

Thus a genealogy software that provides all wanted features and easy to use is important to ensure the family tree is accurately and speedily plotted, and ensure that all siblings and spouses are recognized. Family Tree Builder is a high quality and full featured genealogy software for Windows. Family Tree Builder supports 23 languages and is probably one of the best genealogy software programs you'll ever find.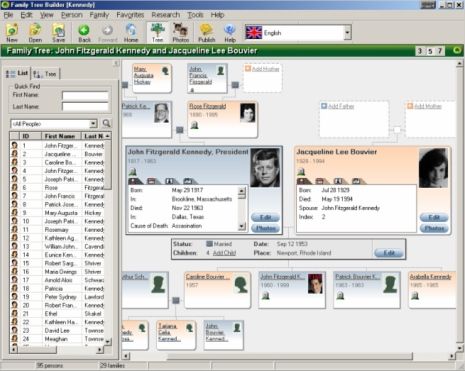 Features of Family Tree Builder
Put together your family tree
Bring your family tree to life with photos
Publish your family tree into your Family Pages
Share your family tree online with your relatives
Use face recognition technology – annotate the faces you recognize to harness the knowledge of other users to identify unknown people and find more photos of your ancestors
Multi language support, bi-lingual data entry and intelligent translations
Publish your family tree to the Web
Advanced options for experienced genealogists
The free Family Tree Builder is easy to use with wizard based tasks process, easy to navigate and gives users options to decide how many generations to display. Last but not least, Family Tree Builder is free of charge and available to everybody for free download.
Download MyHeritage's Family Tree Builder. There is also a tutorial guide on how to use the Family Tree Builder.