Looking for a cool and impressive spy gadget to record everything what you missed while you are away? The wholesale manufacturer of professional spy surveillance and security camera System, Ajoka has introduced the fake AC adapter with integrated hidden spy camera – Charger DVR (Aj-DVC01), seems perfect for your home or office surveillance when you are not there.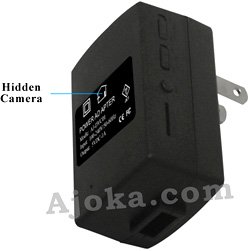 Highlights Of Charger DVR:
Normal Charger look makes it ideal for a variety of surveillance uses
Real time recording 15 F/S in 3GP video format (176×144 ,QCIF)
Color video with voice lets you clearly see who's there & hear what they say
There's no long cord for you to hide or Wireless frequency to detect
Use micro SD card (up to 2GB)
Playback spy video on mobile phone, PC or notebook
According to the company, the video and audio are recorded to a microSD memory card, and a 2GB card is capable of recording up to 66 hours of footage. Anyway, you must connect this spy gadget with the wall socket but its built-in lithium ion battery still able to support up to 3 hours of audio and video recording without an external power source.