F-Secure Antivirus 2013 is a comprehensive, easy-to-use and one of the top 10 antivirus programs which is designed to protect against rootkits, viruses, spyware, worms, and Trojans. F-Secure Antivirus uses on-access scanning to scan all files that are accessed or opened on PC, but users also can perform manual scan to scan specific file or folder by right-clicking it. In addition, F-Secure Anti-Virus also available for online technical supports 24/7. Unfortunately, F-Secure not include anti-phishing tools to protect users from phishing attacks in email account, web searches and instant messaging.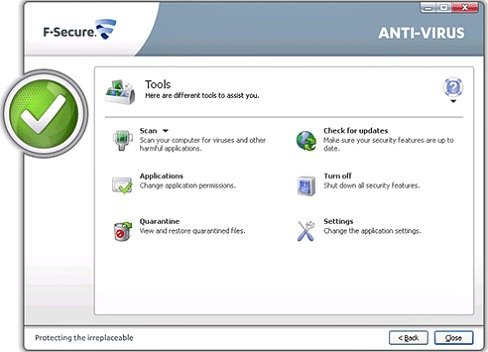 Features of F-Secure Antivirus 2013:
Real-time protection against viruses, spyware and other common malware
Constantly up-to-date without slowing down your computer
Stops unwanted intruders from getting into your computer
Instant response against all new threats
Easy to install and simple to use
Does not disturb you or slow down your computer
The latest version of F-Secure Antivirus 2013 normally priced at $39.99 per single license. As part of F-Secure giveaway promotion, interested users are now entitled to download the full version of F-Secure Antivirus 2013 (12 months) free of charge.
To grab the free 1-year of the F-Secure Antivirus 2013, just download the setup installer: F-SecureNetworkInstaller_AV2013-5XZWR-H89Z4-P3S6H_.exe.
Then, install the program and it will run for 365 days without any license serial key or paid subscription.
Note: The installer come with built-in license key that will automatically activate the product
F-Secure Antivirus 2013 is fully compatible with Microsoft Windows Vista, Windows XP , Windows 7, and Windows 8 operating systems.
Update: F-Secure Antivirus 2016 Free 1 Year Geinune License Serial Key With Download