Eye-Fi, the world's first wireless memory card maker, has announced a new SDHC memory card named Eye-Fi Pro. Eye-Fi Pro has the ability to connect directly to a computer via an Ad-Hoc wireless connection anywhere without any Wi-Fi transfers or internet connection.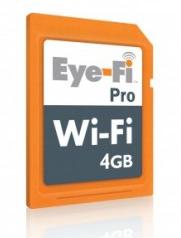 The Pro comes with 4GB memory capacity that stores photos and videos just like a normal SDHC card. It works with most digital cameras. The Eye-Fi Pro supports RAW image files to any folder on your computer to streamline your workflow. This memory card also offers a new Selective Transfer feature that allows users to select exactly which photos or videos to be uploaded directly from the camera.
Similar to Eye-Fi Explore Video, the Pro also allow users to directly upload photos or videos to more than 25 popular online sharing sites such as Flickr, Facebook, Picasa, SmugMug, Kodak Gallery, and more through Wi-Fi networks or HotSpots. Besides, Eye-Fi Pro card also has a lifetime geotagging service where the photos and videos are automatically marked with location information without any extra effort.
Eye-Fi Pro is suitable for photo enthusiasts and professional photographers. According to Jeff Sockwell, an Eye-Fi Pro beta user and professional photographer who used Eye-Fi in a portrait session with more than 150 dance students, "The Eye-Fi Pro has streamlined my workflow. It lets me quickly upload files in the background while I continue my photo shoots. My clients can choose their best shots in near real time."
The Eye-Fi Pro is available now on Eye-Fi Online Shop at $150.