Extech Instruments has announced its new digital mini microscope with digital camera features – Extech MC108. The MC108 can function by its own without plugging into a PC. Thus, it is portable and suitable for people employed to inspect printed circuit boards, investigate counterfeit currency and forensics, research inserts or plants, etc. With this gadget, you can capture the images with the built-in digital camera and bring them back to the office or lab to be downloaded into your PC.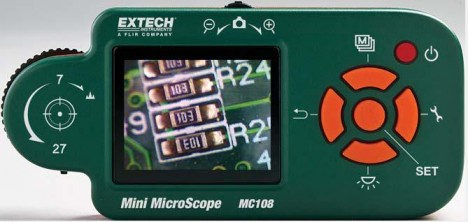 The MC108 Microscope is able to zoom in from 7x to 27x optically and 4x digitally; effectively providing up to 108x total magnification capability. All the images can be viewed with its 1.8-inch TFT color LCD screen. The optics on Extech's MC108 work with a 300,000 pixel CMOS photosensor that captures crisp images that are brightened by built-in, adjustable LED illumination (4 white LEDS). There are five image effect modes to select for user's convenience in work purposes: normal, gray, inverse, embossed, and a dual-window view which simultaneously displays a magnified image next to the original, unmagnified image. A ruler function is available for on screen measurement. It is intended for user's convenience but not for scientific accuracy.
The mini microscope comes with 2GM memory that is able to store up to 60 JPEG images at 320×240 pixels resolution with its digital camera. The images can be transferred between MC108 and PC via USB. The included software allows real time imaging on your PC screen as well as control of the microscope's menus and settings when connected to a PC. A microscope stand is included for hands free operation and to ensure steady images.
The Extech MC108 measures 120 x 56 x 20mm and weighs 70g without batteries. It's powered by three AAA Ni-MH rechargeable batteries. The MC108 digital mini microscope is available now from Extech distributors at $299.99.