Nowadays, most budget-priced camcorders under $200 are slim and ultra-compact designed to compete with the popular Flip series of camcorders. Designed on similar note is the new waterproof digital camcorder DV533UW by Exemode – which is currently retailing in Japan for only 14,800 Yen, about USD$156.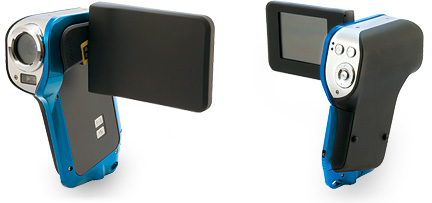 A quick glance of the new DV533UW will definitely bring forth Sanyo's Xacti camcorders in for a comparison, as the latter model of Xacti VPC-WH1 has a similar upright, pistol-grip design and both can submerge underwater up to 3 meters. A point to note, though, is that Xacti is selling at a much higher price of USD$399.
The DV533UW features a 5.17 Megapixel CMOS sensor, 2.4-inch TFT color LCD display and has a 32MB built-in internal memory (expandable memory storage of up to 8GB with SDHC card or 2GB with standard SD card). The DV533UW camcorder records 640×480 VGA video at 30fps in XviD format and also capable of capturing still images up to 8mp in 3320 × 2490 pixels.
Other features:
8 times digital zoom
Flash photography
TV connection (NTSC/PAL)
Direct printing
Waterproof (3m)
Movie recording with sound/playback
Lithium-ion battery (for recording up to 2 hours 20 mins)
Taking still pictures (shooting Self-timer) / playback
SD Memory Card / SDHC memory card support