EVOKE-2S is the flagship DAB radio in Pure. It has obtained numerous awards since its launch like the Best Buy Award by Hi-Fi Choice, BBC Music Choice Award and 5 Star Award by What Hi-Fi? Sound & Vision. Recently, it has been awarded Energy Saving Recommended accreditation by the Energy Saving Trust on its energy consumption efficiency. The Evoke-2S uses less energy than a low energy light bulb.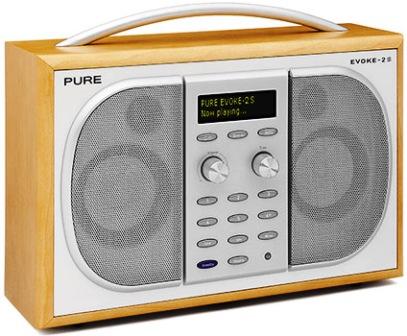 Colin Crawford, Pure's Director of Marketing says: "Consumers are increasingly looking for more eco-friendly products, and telling us that power consumption matters to them. The message that you can run four of our radios for less energy than a single low-energy light bulb is a very direct way to highlight just how successful we've been in reducing digital radio power consumption over the past seven years." Besides Evoke-2S, there are another nine Pure radio products which have obtained the Energy Saving Recommended accreditation, including Move; EVOKE-1S; Siesta; Chronos II; TEMPUS-1S; ONE Mini; ONE Classic; ONE Elite and EVOKE Mio.
Evoke-2S is a stereo table-top radio which supports both DAB and FM reception with Pure's Clearsound technology. Clearsound is a digital end-to-end audio subsystem using high quality Class D amplifiers and digital audio shaping technology to provide clear dynamic audio with immense 30W RMS power and higher volume levels while maintaining low power consumption.
It comes with 'ReVu' feature which means you can pause and rewind live DAB radio for up to 15 minutes. The radio's OLED display is crystal-clear from any angle with both manual and automatic brightness controls. There's also a dedicated input for your iPod or MP3 player. The other features include Intellitext for browse stored scrolling text, textSCAN for pause and control scrolling text, useful alarms and sleep timer functions, a kitchen countdown timer, USB upgradeability and the latest ChargePAK technology. Most importantly, the Evoke-2S is a member of the PURE EcoPlus product family which is designed and manufactured to minimize environmental impact.
With about £170, you can have the eco-friendly and multi-functional digital DAB radio – EVOKE-2S.