Mobile phone function integrated into watch is another new convergence technology that is trending in today's consumer market. Although there is already some watch phone being released earlier, but either it suffers short battery life or it is too bulky that looks more like a mobile phone tied on your wrist. Now it seems that there is a design breakthrough with the new release of EP2502. According to manufacturer, it is the first OLED tri-band watch phone in the world that looks more like a conventional watch with stylish appearance.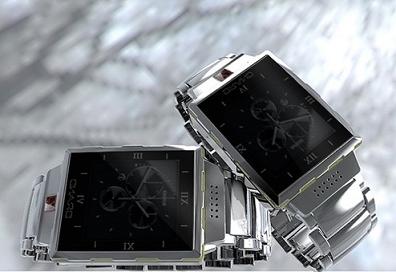 Without compromise with its sleek and tiny outlook, the device is quite powerful with tri-band cellular network support. Just like typical mobile phone, it features a 2.0M Pixel camera module and Bluetooth connectivity that able to capture quality pictures to be transferred wirelessly to other Bluetooth enabled device. Besides, it is equipped with 1.3-inch OLED that able to reduce the power consumption significantly for longer standby and talk time. Even long lasting than conventional mobile phone, it can sustain 3 hour and 160 hour for call and standby time respectively.
Good thing is, it is claimed to be both water and shock resistance suitable for daily activities even heavy sports usage. Surprisingly, with all these great features in place, it costs only around $299 and will be available commercially by end of this week.