Microsoft SkyDrive, which is also known as Windows Live SkyDrive, is a file hosting service from Microsoft with 7GB of free cloud storage space.
In Windows 8, the SkyDrive has been tightly integrated with the OS. On fresh or upgrade installation, the new Start screen based on Windows 8 Style Modern UI (aka Metro UI) prominently displays the SkyDrive tile.

However, if you click on the SkyDrive tile to run Windows 8 Modern Metro version of Skydrive and login to your account, you will notice that the SkyDrive app only displays the files and folders which are already synced and stored on the cloud. It does not actually synchronize the files and folders on local computer to the SkyDrive cloud storage. The app also does not create a new SkyDrive folder for background synchronization even if the folder is yet to exist.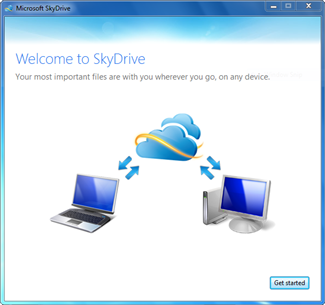 For SkyDrive on Windows 8 users who want actual file synchronization, an additional SkyDrive for Windows client has to be installed. The SkyDrive for Windows desktop app has always been the only program that is provided to keep important files on PC in sync with SkyDrive.com and other cloud-connected computers and mobile devices.
Download Microsoft SkyDrive for Windows client from https://apps.live.com/skydrive.
Although the application is compatible with Windows 8, it's a x86 desktop app and not an app designed for Windows 8 Modern UI. As such, if you're running ARM-based Windows 8 RT devices, you're out of luck, until the Metro version of the app is updated to include automatic background sync functionality, of which Microsoft does not promise.