If you like Arkanoid, Egyptoid 2 will be your favorite game too. Egyptoid 2, by Realore Studios, is the sequel to the popular Egyptoid arcade game which blends together magician and adventure elements with plenty of fun playing the arcanoid game. Egyptoid 2 costs $19.95 to purchase, but Game Giveaway of the Day is giving away the full licensed version of Egyptoid 2 for free.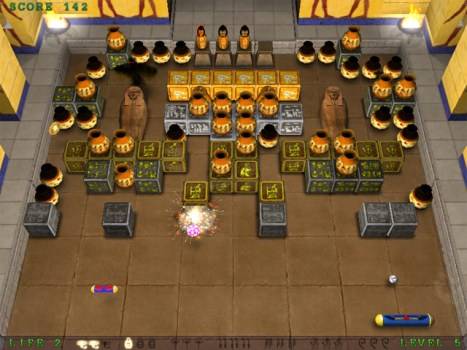 Players in Egyptoid 2 will play Arkanoid like game in the atmosphere of ancient Egypt, with scenes set in temples. There is lots of secret treasures to find, ghosts to fight and evil magician traps to escpae from or embrace Egyptoid ancient army. The full game has 7 different worlds with 9 levels in every world.
For today only (May 3, 2008), gamers can download and install Egyptoid 2 on their computer, and play it unlimited times for the rest of their life (or computer's hard disk life to be accurate), as after today it's impossible to install the game without forking out $19.95 to buy the game.
Download the free Egyptoid 2. It's a full version game without the need to activate with registration code anymore. Egyptoid 2 works in Windows 98/2000/XP/Vista.