If you are dealing with multiple applications running on your desktop frequently, you may need this freeware for your Windows based PC. Named as VirtuaWin, it is an open source application software that able to simulate many desktop system environment without additional hardware installation on your PC. Although there are already many different software utilities such as Windows PowerToy that able to perform similar task, but I found this to be user friendly and yet supports more virtual desktop profiles.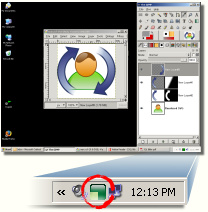 If you are familiar with Unix or Linux system, virtual workspaces are very common especially for platform development and industrial workspace. These kinds of applications have been extended to daily life usage when highly multi tasking activities are on demand even in Windows OS environment. Surprisingly, it can support up to 9 different Virtual desktops, allowing user to run many applications in a separate desktop profiles for more organized and effective tasks switching among them. More importantly, the setup process is pretty straight forward with simple GUI for desktop configuration. To simplify the switching task, there is an option to assign hotkeys so that fast switching between profiles can be completed with only a simple click.
The software utility is compatible to Windows operating systems ranging from old Windows 9X, NT, 2000, XP and even latest Windows Vista. At merely 400kB, you can get a free copy at VirtuaWin for more effective multi-tasking.
There is also 360desktop 3D panoramic desktop workspace for those who want something more unique and sophisticated.