Have you ever imagine that your Windows Mobile Device can be used as a thumb drive or portable hard disk storage for daily use? Now with the newly developed application, this seems to be possible as long as your mobile device supports external memory card. Known as Softick Card Export II, this tiny software utility can emulate your Windows Mobile Device as an external thumb drive, that allows user to transfer any files or data directly into the memory card without going through hassle of synchronizing both device and PC at the first place.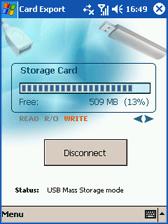 Once you download and install the .cab file, just perform a soft reset and it is ready to be used. The utility is very simple as there is not much setting that user can configure. Surprisingly, while I was still pondering around the simple interface appeared on my o2 Zinc running on Windows Mobile 6, the PC already can detect and recognize the external memory card for fast file transfer and storage directly. User can go ahead to browse the File Explorer for the 'Removable Drive' that emulates the external memory card storage. Regardless of whatever memory card format, user can figure out the total storage and browse for the right folder with single click.
The software tool is totally compatible with any operating systems ranging from old Windows 2000 up to latest Windows Vista or even Linux machine. It is free for trial now and just download at Softick for immediate use.