Rising Antivirus is a China based anti-virus, firewall and Chinese software company that produces anti-virus software, firewall and spam-blocking products. Rising AntiVirus is one of the flagship products from the company, and is believed to have market share of about 50% of Chinese market, that's more than 100 million users.

Rising AntiVirus 2008 potects computers against all types of viruses, Trojans, worms, rootkits and other malicious programs. Its main features are ease of use and SmartUpdate technology that make RISING Antivirus an install-and-forget product which does its jobs automatically. Rising AntiVirus 2008 has included some extra new features:
Proactive Defence Technology
Application Protection
Self-Protection
Application Access Control
Program Startup Control
Malicious Behavior Detection
Hidden Process Detection
Computer Security Check
Security Tool Integration Platform
Rising is now giving away Rising AntiVirus 2008 6-month free edition from mid April 2008, which can be downloaded, installed, used and received updates for free for up to half a year. No registration nor product key or serial number is needed.
The giveaway is in the form of unique setup installer, ravfree08.exe, which can be downloading from www.rising.com.cn (new name is ravD.exe) for a limited time. The giveaway promotion is mainly to improve the security environment of Internet network before Beijing Olympics 2008, and is main spring advertising drive for Rising anti-virus software.
The giveaway is mainly targeted to Chinese market, although the setup installer and the Rising AntiVirus control panel user interface does support and show in English language, with some part mixed with Chinese language, but the mixture should not stop non-Chinese literate users to use it properly.
Great news is that, the no-expiry-date free Rising AntiVirus 2008 for English market is also available.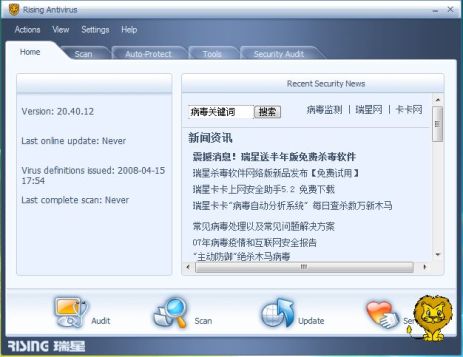 Download Rising AntiVirus 6-Month Edition (or using the new download link). Simply download and install and you're protected instantly. No registration is required, nor any product key or serial number is needed.
Rising AntiVirus supports Windows 95/98/ME/2000/NT/XP/Vista, but apparently it may has some issues running in 64-bit operating system.