There are many unit conversion tools in the market running on Windows OS but nothing come close to Convert v4.10 in terms of speed, accuracy and user-friendliness. Convert v4.10 (created by Joshua F. Madison) is a free unit conversion program compatible to Windows 7 that is capable of converting almost all popular units plus the ability to create custom-made conversions to suit different needs.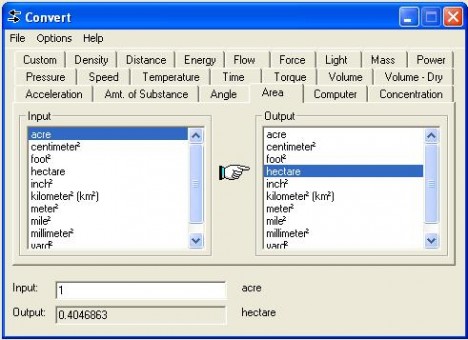 From daily conversion use of density, distance, speed and volume, to Physics conversion of energy, acceleration, torque, pressure and force and even Chemistry conversion of concentration, amount of substances and dry volume – Convert v4.10 does it all accurately up to 10 decimal-points precision!
At the moment, Convert v4.10 is not yet supported on Apple's Macintosh OS and can only runs on the following Microsoft OS, namely Windows 95, Windows NT 4, Windows 98, Windows 98SE, Windows ME, Windows 2000, Windows XP, Windows 2003, Windows Vista and Windows 7.
To download the free version of Convert v4.10, please follow the link here at ConvertSetup.exe
For Windows Mobile Device users, we would recommend MSS Converter v1.07, a powerful application that can helps users to carry out almost any kind of unit measurement conversions.