MailBrowserBackup is a simple utility for creating complete backups of Internet Explorer, Mozilla Firefox, Windows Mail, Mozilla Thunderbird, IncrediMail, Opera Browser, Apple Safari, Google Chrome, SRWare Iron, FileZilla FTP Client, eMule profiles.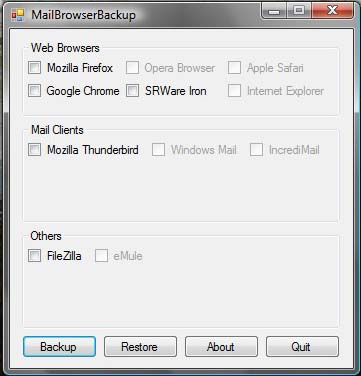 At the moment, the MailBrowserBackup v.01 only supports Mozilla Firefox, Google Chrome, Filezilla and Mozilla Thunderbird. According to the author, this standalone and open-source programme will be upgraded to support other browsers such as Opera, Safari, and Internet Explorer, Windows Mail, Incredimail and eMule in their next coming release of MailBrowserBackup v.02
With MailBrowserBackup, users can backs up multiple web browsers profiles in seconds on any Windows pc that has Microsoft .NET 2.0+ or above. To download the free version of MailBrowserBackup, follow this link here.