Looking for some tips or solutions to impact your web design project? Or probably you have stuck for idea on how to create a more stylish, appealing and artistic website? Well, get some helps from this book:"The Photoshop Anthology: 101 Web Design Tips, Tricks & Techniques". The Photoshop Anthology: 101 Web Design Tips, Tricks & Techniques is a useful Photoshop compendium for web designers. Now you have a chance to get this designer's bible for FREE from site point.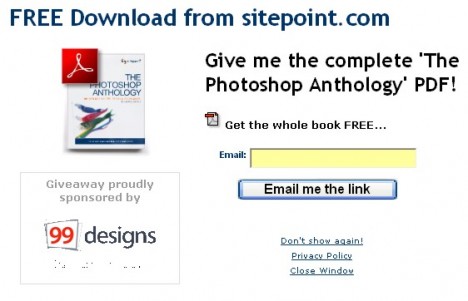 Sponsored by 99designs, SitePoint is now offering readers an opportunity to download the 278 pages ebook from the internet. This free Photoshop Book is free to download for 30 days. To get a copy of it, users can go to SitePoint and fill in their email addresses. SitePoint will send the download link to the users via the email registered. If users refuse to register their emails with Sitepoint in order to avoid spam mails or promotion ads, etc. users can download a high-resolution copy of the book in PDF format (file size:64MB) via the link here. Or for the bandwidth conscious, here's the link for a low resolution copy (file size: 23MB).
The Photoshop book offered by SitePoint of course is not the latest copy. Nevertheless, it is still very useful and most of the guidance and tips showing in the book still apply. Since it is free, users can just download it to enrich and enhance the photo editing experience.