N-Gage (or N-Gage 2.0 Next Gen application of Ovi initiative) is the mobile gaming service platform from Nokia that is available for selected Nseries S60 smartphones such as Nokia N81, N81 8GB, N82, N95 and N95 8GB. N-Gage is now giving away free EA Sports FIFA 08 mobile game, and it's the complete version of the popular football or soccer game in the world, which normally costs 10 Euro or 8 GBP pound.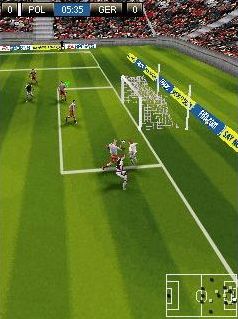 To receive the free EA Sports FIFA08, users have to own a supported Nokia Nseries phone, and must download and install N-Gage application on the mobile phone device to make it a gaming phone too. There are two ways to get N-Gage application. Firstly, download from play.n-gage.com and then transfer and install the program to Nokia Nseries device with a USB data cable.
The alternative method is to open mobile browser and browse to n-gage.mobi/play, and then click on Download N-Gage Now. Note that N-Gage application is about 10 MB in size, so make sure that you're using unlimited and flat rate Internet GPRS or 3G data plan, or use WiFi Wireless LAN to download directly to mobile phone. If you're using this method to install N-Gage applicaiton, the full FIFA08 game is automatically installed.
For users who already have N-Gage application installed, or install via web download, the full game of FIFA08 can be downloaded from here free of charge, which can be installed via PC Suite Mode or Mass Storage Mode for users who do not install Nokia PC Suite.
After installing EA Sports FIFA 08, gamers have to activate the free game with respective phone number, where a download link to the license will be sent to the phone, which once installed, will activate the full free FIFA08 soccer game for free.