Want to have a peace of mind during weekend without disturbance from boss or customer's call? This software tool may able to help you. Known as Call Firewall + SMS Blocker Version 1.4, the utility will be able to filter out any annoyance calls on you Windows Mobile Smart Phone intentionally anywhere.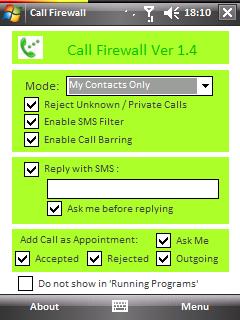 The software utility is compatible with Windows Mobile 5 and even latest Windows Mobile 6. I have tried it on my o2 Zinc and it works great! The user can choose to filter out specific mobile number stored in either the mobile contact list or by entering the prefix, or the entire number manually to block any phone call in purpose. If you don't intend to receive mobile call from specific country, just key in the prefix with country code will do. Good thing is, there is an optional SMS reply to the caller automatically once the call is blocked. This feature is great and especially useful when you are in meeting or training and would like to send a predefined SMS to the caller directly informing them about your current status once the call is blocked.
Only few drawbacks, there will be a ring delay when the rejecting call is on going, making it impossible to use the excuse of no network coverage on your area. Anyway, it is a nice to have feature on your Windows Mobile Device with wide range of filtering criteria to block any calls or SMS on the fly. No harm to get a free download at Logic Unlimited (http://www.logic-unlimited.com/callfirewall.php) (no longer valid) now.