AVAST Software has recently released the latest version of its mobile security app for Android platform. As compared to the previous version, the avast! Mobile Security 2.0 has been improved with several useful features that provide mobile antivirus and anti-theft for Android device at any time and anywhere. With the new features, the avast! Mobile security users can remotely control the phone via Web when the phone missing or loss.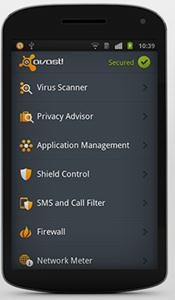 Key features of the avast! Mobile Security 2.0
Network Meter (NEW) – Measures incoming/outgoing data transfers.
Widget (NEW) – Let's the user control the app from Android desktop.
Web Interface (NEW) – Control remotely with anti-theft features such as phone lock, GPS tracking, memory wipe and etc.
SiteCorrect (NEW) – Automatically fixes mistyped URLs.
Shield Control (NEW) – Advanced settings of the app, web and messages scanning.
IMPROVED UI Design – Better readability on tablets.
Antivirus – Scans installed apps and memory card content on-demand and each new app upon first use.
Anti-Theft – Hidden component that gives user remote control via SMS or Web (lock, locate, siren, memory wipe and etc).
Privacy Report – Scans and displays access rights and intents of installed apps.
SMS/Call Filtering – Filters out particular contacts that user select.
App Manager – Lists apps and their sizes (MB), CPU load, memory used and etc.
Web Shield – Scans each URL that loads and warns if it's malware-infected.
Battery Save – Runs only when performing tasks.
Firewall (works on rooted phones only) – Serves as gatekeeper for network traffic.
The avast! Mobile Security 2.0.2750 is now available as a free download at Google Play Store.