Most Windows PCs will exhibit a certain degree of slowness after some period of usage (about 2 years or so). Other symptoms of "aged PC" are pop-up mysterious error messages, ActiveX or similar .dll errors and blue screen, system crashing or system freezing from time to time. Well, you can now say goodbye to those problems with Advanced PC Tweaker – a complete package for your PC care and maintenance that will safely clean and repair the registry problems and speed up your computer with a few simple clicks so your PC will always stays in the pink of health.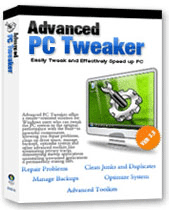 Key Features and Benefits:
1-Click Maintenance
Clean Invalid Registry Entities
Repair Registry Errors
Repair Windows system Errors
Repair/Restore Internet Explorer
Block ActiveX Objects
Register ActiveX Objects
Clean up Junk Files
Indentify and Clean up Duplicate Files
Manage Registry Backups
Utilize System Restore Point
Tweak Memory Management
Optimize System Settings
Set Settings for Optimal Performance
Allow Perform Scheduled Task
Remove Tracks of Internet Activities
Administer Startup Applications
Uninstall Unneeded Applications
Permanently Remove Files or Folder
Submit PC Problems to Solutions Center
Unlimited Free Technical Support
Automatically Updated during the Subscribed Period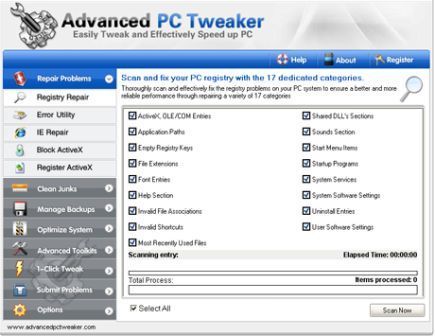 Advanced PC Tweaker (APT) is fully compatible with all major Windows based systems, including the latest Windows Vista, Windows XP/ 2003/ 2000 and even Windows 98 and ME. With Advanced PC Tweaker you can repair your registry problems with only several clicks.
Errors Utility scans and fixes the commonly-known Windows problems, protecting your Windows system from crashing, freezing and blue screen problem. Advanced PC Tweaker also includes Internet BHO (Internet Browser Helper Objects) manager and IE Restore utilities to ensure a much safer internet experience by blocking malicious plug-ins and restore Internet Explorer to tip top performing states. Apart from cleaning and fixing hardcore registry, APT helps you to scan and clean up junk files or duplicate files from your system, providing more space on your hard drives and allow applications to run faster and more efficiently.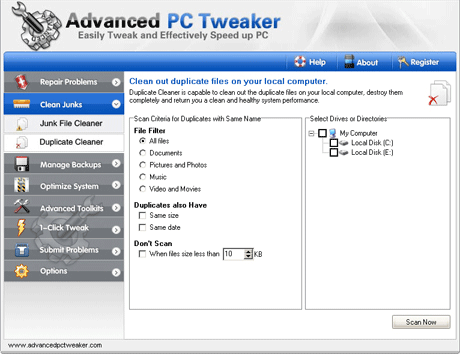 Solve Problems & Speed up:
Windows© Installer Errors
ActiveX Errors
ActiveX Control Object Problems
Windows© Startup Errors
Windows© Explorer Errors
Windows© Media Player Errors
Svchost.exe & other exe Errors
Windows© Operating System Problems
Scan & Fix Registry-Related Errors
Prevents PC from Freezing or Crashing
DLL Errors
Runtime Errors
IExplore and System32 Errors
System Crashes, Blue Screen
Chkdsk Issues
Computer Freezing
Internet Explorer Errors
Javascript Errors
Dr Watson Errors
Driver Errors
Task Manager Related Issues
Computer & Application Shutdown
Prevent Application Crashes
Load Windows© Faster
Run Applications Smoothly
With Advanced PC Tweaker, you will be able to manage your personal computer's registry and backups system setting while optimizing the system performance with System Optimizer and Memory Tweaker by disabling some unnecessary applications or services under certain environment – all these without causing any system instability. Coupled with some other built-in advanced toolkits such as the Evidence Cleaner, Startup Manager, Uninstall Manager and File Shredder, you can be sure that your PC will be kept healthy in its best form ever.
Download it free from Advanced PC Tweaker.