Looking for a software that can automatically crawl web pages and grab or download all the images, pictures and photos embedded and hosted on the web pages or thumbnailed web gallery along the way? Bulk Image Downloader (BID) is one of the such web gallery downloading tool, which can download full sized images from almost any thumbnailed Web gallery, bypassing all annoying popups and adverts.

Bulk Image Downloader by Antibody Software supports almost all popular image hosting sites such as imagefap, imagevenue, flickr, xxxdump, imagecash, usercash, megaupload, shareapic, zshare, photobucket, and imageshack, and of course normal websites too. BID can even automatically follows multiple pages and handle forum attached images.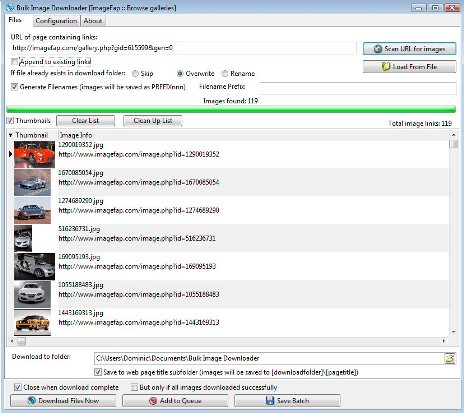 Features of Bulk Image Downloader
Downloads full sized images from web galleries automatically.
Preview galleries interactively and download just the images you want.
Integrates with IE, Firefox and Opera.
Supports almost all popular image host sites.
Supports downloading of forum attached images.
Bypasses all annoying popups and adverts.
Queue Manager allows for multiple galleries to be downloaded automatically without user input.
Multiple languages supported.
Partially downloaded or invalid images are automatically retried, and image downloads are resumed where possible.
Can handle images that have had their true locations hidden via redirection sites such as usercash and imagecash (redirected links are resolved automatically).
Bulk Image Downloader normally costs $14.95. With Giveawayoftheday.com offer, it's available for free download and free full license if user install BID today (April 11, 2008).
Download the free Bulk Image Downloader. There is also Bulk Image Downloader FireFox extension to integrate BID with FireFox so that links can be opened in BID. After installing the software, run Bulk Image Downloader or Bulk Image Downloader Queue Manager, then go to "About" and click on "Enter your registration code" button and enter the following code to activate it:
GIVEAWAYOFTHEDAY
Actually, it's not quite worth to even spend a penny to buy this kind of program, as there is plenty of free alternative available. If the offer has expired, try out DownThemAll, ImageHost Grabber, both Firefox extensions, or standalone freeware programs such as Orbit Downloader and NeoDownloader Lite.