It is a wonderful experience, if you can enjoy your favorite movies while you are on the go. Now you can watch Disney movies with your Android device. With partnership between Walt Disney Studios and Google Play, now you can access and watch all its movies, including those from Disney, Pixar and Marvel in Android device at any time.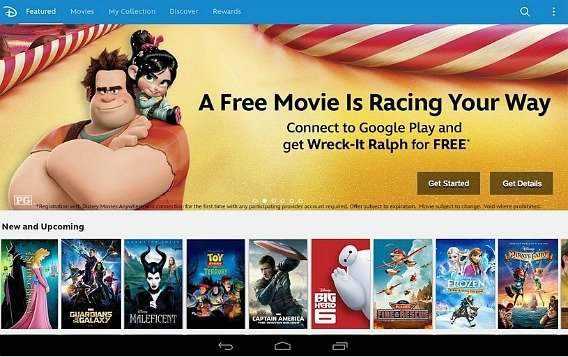 If you are loyal fans of Disney characters and want to immerse yourself again in the magic world of Disney, here is additional good news as now you also can buy movies on iTunes and watch it on Android device.
Disney has released Disney Movies Anywhere (DMA) app in Google Play store after launch for iOS platform earlier this year. Once downloaded, users can connect their account and access purchased movies. You can purchase new movies through platform as well as redeem codes included in physical copies. In addition, you also able to get an offer for a free copy of Wreck-It Ralph once sign in an account through iTunes or Google Play. After accounts are added, you will be able to play Disney movies through the Disney Movies Anywhere app or on Disney's site.
Features of Disney Movies Anywhere:
Watch Disney, Pixar, and Marvel movies anywhere anytime, across all devices
Build digital movie collection with a library of hundreds of movies
Access exclusive Disney content for free, including original programming, never-before-seen videos, and much more
Watch movies while connected or download movies to your device for offline watch
Get exclusive videos, special offers, and earn Disney Movie rewards points for all eligible digital purchases
Support parental controls
"We set out to create an exceptional Disney experience that made owning digital movies easy and fun, and with Google Play now on board following our successful launch in February, we are able to deliver unprecedented availability and ease for consumers across a broad range of mobile devices," said Janice Marinelli, who leads domestic distribution for the Walt Disney Company, in a press release.
Disney Movies Anywhere for Android: https://play.google.com/store/apps/details?id=com.disney.disneymoviesanywhere_goo
Disney Movies Anywhere for iOS: https://itunes.apple.com/us/app/disney-movies-anywhere-watch/id766894692?mt=8