Nowadays, getting into college and University life is challenging. Every day you need to carried heavy books and manually checks the timetables so that you wouldn't miss anything. Homework, exam, assignment and attend classes, all these things might need to schedule and organize in your own timetable or calendar. Fortunately, now you can easily schedule through technology. Timetable – is an android app that can let you digitalize schedule.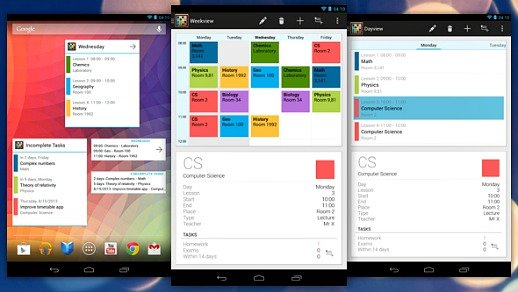 Timetable help and make it easy for you to manage your college routine through your Android smart devices. It has multiple views and differentiates with many colors, so you can check your class schedule and events in either list view or grid view. Timetable lets you easy to note when is holiday, assignments due date for each classes, which days have exams or quizzes and more.
With timetable, you only need to enter the task once and it will syncs across all your Android devices. Always forget to mute or turn down your phones volume during lessons? Now, no concern about this issue again. Timetable will automatically mute your phone during your lessons. This is pretty warm design. Furthermore, timetable also supports DashClock Widget to let you check your events on your lock screen and also comes with home screen widgets as well for a quick view. This app is free and optimized for all Android devices. You may get it from Google Play now or at the link below.
Timetable for android : https://play.google.com/store/apps/details?id=com.gabrielittner.timetable