You might still keep a lot of old and dusty LPs, tapes, VHS cassettes from your home movie days. You may have all these tapes on your baby's first birthday, your graduation, your wedding or the numerous attempts to win the funniest home video competition. There may also be old albums or cassettes from your favorite bands and singers. You could clear all of them out on a jumble sale but that might tug at your heart strings. To retain all these sweet memories and yet not take up too much shelf space, why not digitalize them and save them into your computer? You don't have to spend a huge sum to get professionals to digitalize the LPs, cassettes and tapes for you. Try VinylStudio, a tiny application which can help you to convert or digitalise these items.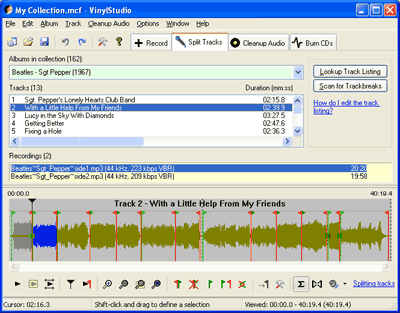 VinylStudio is an easy to use, purpose-built application designed to digitalize or convert vinyl albums and tapes. It features a user friendly interface with many shortcut keys to speed up the digitalizing process. Besides functioning as an audio editor, VinylStudio can also record your LPs and tapes on your PC, split them into tracks, look up track listings over the Internet, remove clicks, hiss, hum and more, burn both audio and MP3 CDs, copy tracks to your MP3 player or iPod and organise your music collection.
VinylStudio has recently released its latest Version, VinylStudio 4. VinylStudio 4 is an improved version and has incorporated a lot of enhancements such as:
– much wider range of online databases for looking up track listings
– look up and edit track listings while the album is being recorded
– export track listings to your favourite CD-cover editor
– VinylStudio now handles singles and spoken word cassettes in a nice way
VinylStudio 4 is a piece of modern technology which helps us to keep slices of the past with ease and convenience at a relatively low cost. Money can't buy these memories once they are lost or destroyed for they are priceless. A digital memory album will surely make the memories last longer besides managing and organizing the records more effectively.
Download VinylStudio 4 for 10 record trial.