Sometimes when you go to a new place and you want to surf the net, you might have problems to identify the venue that can offer you Wi-Fi access. Of course you can refer to Wi-Fi Hotspot directory (if there is) or find a restaurant/café which has Wi-Fi access. If not, probably you need to use a Wi-Fi enabled device such as PDA, iPod Touch, etc or boot your notebook and try to track whether there is any usable Wi-Fi network nearby. If you think this is a troublesome and tedious process, perhaps you can try this tiny device, Digital Hotspotter H20.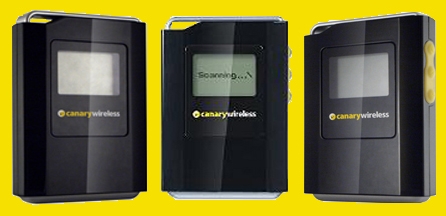 The Digital Hotspotter H20 is a Wi-Fi detection and analysis tool with an LCD display providing important network information developed by Canary Wireless. This second generation Wi-Fi detector will tell you if it is time to boot your laptop or try to get the signal elsewhere. With a slick mirrored surface and tiny size (only 2 ounces), the H20 provides smart signal analysis, including network ID, encryption status and channel data for 802.11 (b, g, and n) networks. It also features many added benefits including a "scroll" feature to toggle between multiple available networks, a backlit display and a larger screen with quick glance icons.
The Digital Hotspotter H20 is easy to operate. Users just need to press the scan button and the helpful device will do the remaining work. It is powered by a couple of AAA batteries and it only costs you US$59.95. Who might need this device? People like students, business travelers, recreational travelers, etc will find H20 very useful.