Despicable Me: Minion Rush is a classic swipe based game developed by Gameloft. With gameplay set to collect bananas and avoid whatever may pop up in path. The 3D action set from the animated Despicable Me movie series by Universal Pictures. Minion Rush is available for iOS and Android platform.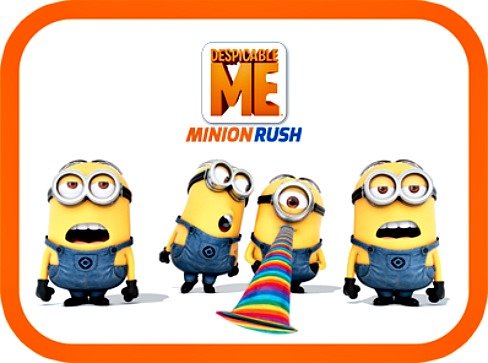 Features of Despicable Me: Minion Rush:
Enjoy unpredictably hilarious Minion moments
Perform despicable acts through hundreds of missions
Run through iconic locations, which are full of surprises, secrets and tricky obstacles: Gru's Lab and Gru's Residential Area
Customize Minion with unique costumes, weapons, and power-ups
Battle Vector and an all-new villain exclusively created for the game
Encounter secret areas, unique boss fights and amazing power-ups
Experience custom animation and voice overs, and state-of-the-art 3D graphics
Enjoy multiple dynamic camera angles
Engage in various bonus gameplays
As minion charges forward, gamers just swipe left or right to help minion dodge objects and cliffs. Gamers also can swipe up to make him jump, fly, or down to make minion slide under laser-beam traps and collect bananas.
Tips for playing Despicable Me: Minion Rush:
Use device's tilt function take controls of minion once see a large patch of green runway coming up
Bump into fellow minions to increase your scoring multiplier
Avoid the large units when fighting against Vector that he drops onto the lanes, but fire the shielded units back at him
Tap rapidly on the screen, outside of the Revive box to start up a new game when run out of tokens
Always prioritize grabbing the Fluffy Unicorn icon when it appears on the screen
Pay attention to the goals that you're given throughout the game
Upgrade minion via the shop bought using the bananas collected
The Despicable Me: Minion Rush is free and available to download but has the typical in-app purchases of "coins" to help gamers progress. The Despicable Me: Minion Rush game app takes 44.7MB of space.
To download Despicable Me: Minion Rush for free, visit the
Google Play Store for Android: https://play.google.com/store/apps/details?id=com.gameloft.android.ANMP.GloftDMHM&hl=en
iTunes Store for iOS: https://itunes.apple.com/us/app/despicable-me-minion-rush/id596402997?mt=8
Video Trailer Despicable Me: Minion Rush: