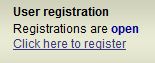 For those who didn't manage to win the prized Demonoid.com invitation code to register an account on Demonoid, now it's the chance to grab yourself a Demonoid.com as hard to come-by open public registration period is now on.

During the public registration period that is opened at least once a month, users can create a Demonoid account without the need of any invitation code or invite. And the registration is free.
Register for free Demonoid account without using invite or invitation at http://www.demonoid.com/register.php now. The free public signup period probably won't opens for more than 1 or 2 days.
Demonoid open registration is available again.