Sometimes due to crashed or corrupted hard disk, virus attack and other reasons, your important files or data may go missing or got deleted. If you send your computer to the service center for data recovery service, it might probably cost you a bomb. You could give a trial to FineRecovery if you are looking for a DIY data recovery solution.

FineRecovery is another effective and powerful data recovery tool which can restore the intentionally or accidentally deleted files. This data recovery application is free and supports various Windows OS such as Windows NT, 2000, XP, 2003 Server and Windows Vista. Users can download this recovery tool via the link here. Users can run the application either from a computer or any USB storage device to carry out the recovery process. FineRecovery will make a quick scan to the hard drive for recoverable files within minutes. It will then restore the deleted files from the hard disk. Technically FineRecovery can recover files which are deleted due to damaged/corrupted hard disk, destroyed MBR, bad sectors in the hard disk or virus attack. If users have deleted files without the recycle bin or the recycle bin has been emptied, FineRecovery is also able to carry out the recovery task.
The current version of FineRecovery is 1.2.17. Other important features of this tiny but useful tool are:
• Standard "Windows Explorer" – style interface;
• Supported file systems: NTFS, NTFS5;
• Data recovery on damaged or deleted partitions, alternative data streams (NTFS, NTFS 5);
• Recognize localized names
• Preview deleted photos
• Scan all files and directories on selected hard drives.
• Utilize a non-destructive, read-only file recovery approach. File Recover will not write or make changes to the section of the drive from which it is recovering data.
• Batch file recovery (recovers multiple files in one action).
• Work around bad-sector disk areas. Recovers data where other programs fail.
• Support standard IDE/ATA/SCSI hard drives, including drives larger than 1000 GB.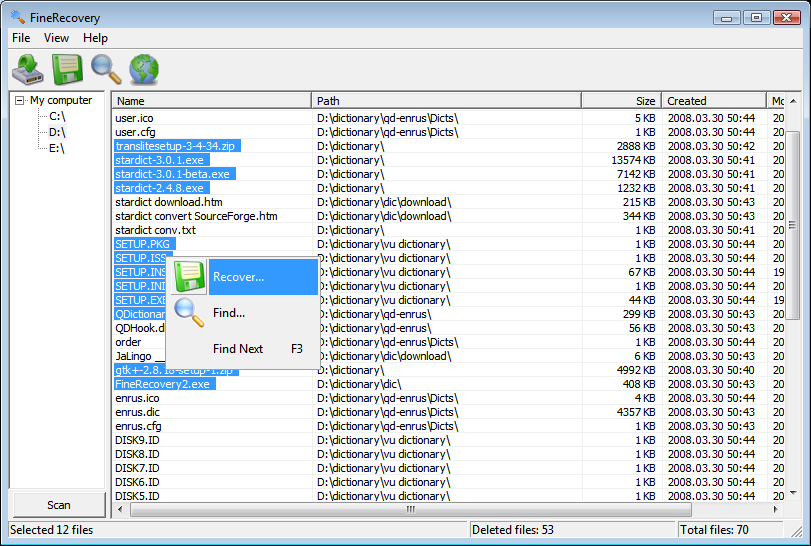 Screenshot