The award-winning designer, developer and manufacturer of networking, broadband, digital electronics, voice, data and video communications, D-Link has launched its new 10″ (resolution of 800 x 480) Wi-Fi digital photo frame – D-Link DSM-210, which combines the benefits of digital photo frame with the convenience of Internet.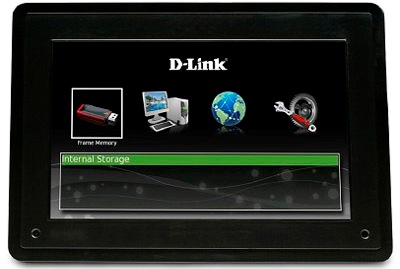 "Bringing this easy-to-use Wi-Fi and Internet-enabled photo frame to market is an important extension of our digital home strategy where the home network serves as a powerful platform to connect together a variety of devices beyond just PCs," said Steven Joe, president and CEO of D-Link Systems, Inc. "This 10-inch photo frame (DSM-210) is an ideal solution for customers wanting to view not only the hundreds of photos stored on their PCs but those they've uploaded for others to share over the Internet. It was also important that we provide our customers the added benefit of accessing content that interests them from the frame such as the latest news, weather and sports scores without the need to turn on the PC."
With D-Link Wi-Fi digital photo frame, users can view Internet content directly from the frame including news, weather, sports, trivia, and Really Simple Syndication (RSS) feeds eliminating the need of a PC.
According to the release, "D-Link has partnered with FrameChannel to provide easy access to a library of interesting content to include in their photo frame. Users can combine their personal photos with over 400 channels of dynamic content in the FrameChannel library. Creating an account at www.internetphotoframe.com allows anyone to personalize the wireless picture frame experience. The ability to manage the frame using the Internet also allows a user to remotely manage a frame over the Internet using the same Web portal, making it the perfect gift for someone who is a novice computer user, letting the giver of the frame remotely manage the photos and content displayed."
The new D-Link DSM-210 wireless digital photo frame which includes 1GB of internal memory is now available for about $250.