You may have seen flat panel with embedded PC that helps to save office space, but have you seen any other creative idea of integrating the main cores into some PC peripherals? Here is another innovative one created by Cybernet, Named as ZPC-GX31, the famous manufacturer has managed to shrink the whole motherboard design so small that it fits into keyboard casing and makes it an All-in-one solution for consumer market.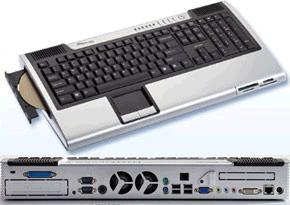 With the innovative idea of integrating processor and chipset into keyboard casing, user will be able to save a lot of space especially suitable for compact room or small office cube. Just like traditional PC, users will need additional flat display panel that can be connected to display port built into the keyboard. Not to be compromise by its performance, the ZPC-GX31 is powered by high performance Intel Core 2 Quad processor pairing with Intel G31 Express chipset. It is supported by 4GB DDR2 RAM and SATA interface for external hard disk connectivity. Also, it has full rich of peripheral interfaces such as Gigabit Ethernet port, PCI Express, mini PCI slots, USB 2.0 ports, RS-232 serial ports and some other legacy ports.
However, the price is not cheap, ranging from $699 to $1099 depending on the system configuration and optional peripherals. I think the most challenge here is how to reduce form factor while able to maintain good thermal design as compared to traditional PC that contributes to high BOM (Bill of Material) and development cost.