CyberLink PowerBackup is a software designed to backup files as well as recover data to prevent crashes, hard drive malfunction, missing, deleting, overwriting, and keep them in safe for easily accessible. CyberLink PowerBackup can analyzes, separates, and archives files on a wide variety of devices like hard disks, USB drives, CDs or DVDs. It also features schedules automatic backup and protects files with password.
To facilitate the backup process through CyberLink PowerBackup, user can use its intelligent interface with 3 option methods and 4 steps to backup the files. 3 backup method – full, incremental, or differential for user to select, also can choose backup files to media such ash CDs, DVDs, hard drives, USB flash drives, or compress files during the backup. Besides that, CyberLink PowerBackup user also can follow 4 simple steps to backup files – First, choose the source folder; second, choose the destination folder; next, choose the type of backup, and then perform backup files.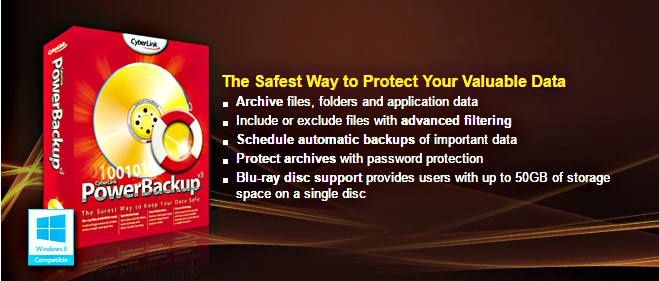 Key highlights of CyberLink PowerBackup:
Fast Stream-to-Disc Archiving
Flexible File Filters for Quick Data Archiving
3 Convenient Backup Modes – methods—full, differential, and incremental
Archive files, folders and application data
Include or exclude files with advanced filtering
Sturdy Password Protection
Schedule automatic backups of important data
Restore data using the independent restorer utility
Data Restoration
Restorer Utility
Save archiving time with Stream-to-Disc technology
Supports Blu-ray disc with up to 50GB of storage space
CyberLink PowerBackup normally cost $39.95 for license purchase. Current CyberLink has campaign which invite everyone participate in brand survey. As appreciate in complete the survey, participant will receive CyberLink PowerBackup 2.5 (worth $39.95) for FREE.
To join the survey and grab license key of CyberLink PowerBackup, just follow the steps below:
Visit the CyberLink Brand Image Survey link HERE
Fill in the name, email address, and other question
Once complete, click "submit" button to submit the survey result
An email from CyberLink will sent to registered email address containing with product download link and license key.

You can share or follow us on Twitter, add us to your circle on Google+ or like our Facebook page to keep yourself updated on all the latest info from Microsoft, Google, Apple and the Web.