Can you imagine a camera the size of 26mm x 26mm x 28mm? Maybe you would say it is unbelievable because it is just as big as your eye-pupil! However, in actual fact, the China's largest consumer electronics wholesaler – Chinavasion, has unveiled a camera named CVMV I95 with this tiny dimension. It can even function as a digital video recorder.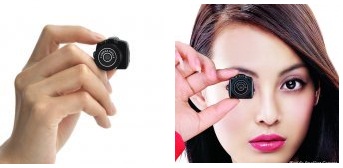 The CVMV I95 is the world's smallest camera as claimed by ChinaVasion. Although its size is tiny, Chinavasion has not compromise on its outer design. It's designed to have an appearance of a miniature version of a professional DSLR camera. On its functionality, CVMV I95 can take a 2 megapixel picture which allows you to print out a good quality photo up to 4R size. It is also equipped with a built-in MIC and allows you to record video into 640 x 480 pixel resolution at 30 frames per second. The camera even has a slot for microSD memory card and supports up to 16GB. It's powered by a 140mAh built-in rechargeable lithium polymer battery. The battery allows you to continuously record for about 40 minutes on full charge.
This tiny camera just has very basic functions. It does not feature zoom in/out function, built-in flash or LCD monitor. Nevertheless, it can alternatively be a spy camera, key chain or necklace. If you are bored with the heavy DSLG camera, the CVMV I95 might give you a different shooting experience. The world's smallest camera CVMV I95 is available at Chinavasion at $33.20 with a free 2GB memory card.