Whether it's the modern wireless infrared mouse, optical mouse or the contemporary mechanical mouse with scroll ball, left-handed users seldom find them "friendly". Why? Because the easiest finger for clicking a mouse button with is your index finger and the most commonly used button is the left mouse button. Therefore, by default, our computer mouse is setup for a right-handed user. Majority of left-handed users either use their mouse in their right hand or in their left hand with the left click button under their middle finger – thus very unfriendly and somewhat confusing. Here's how you can switch your mouse buttons easily with a simple alteration or settings.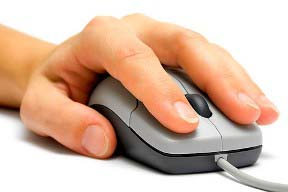 Converting to Left Hand Mouse for Windows XP Users:
Call up the Start menu by clicking on the Start button or by pressing the Windows logo key (located between the Ctrl and Alt keys). Alternatively, you can press Ctrl + Esc
Click on Settings and select Control Panel.
Double click on the Mouse icon to display the Mouse Properties
Select the Buttons tab and click on the check box marked Switch primary and secondary buttons to set the mouse buttons up for left-handed use.
Click OK or press Enter to confirm your choice and exit the mouse properties (note: you should be using the mouse's right button now to make selection)
If you're operating from Windows 95, 98, ME or Windows 2000, you'll be prompted to make a selection (Right-handed or Left-handed) from the Buttons tab, instead of a checkbox. Just click and select accordingly, and you're done. Now, isn't it feels better to have the mouse working on your left hand?